{ "@context": "https://schema.org", "@type": "News", "datePublished": "2021-07-07", "dateModified": "2021-07-07", "name": "Identifying the views of adolescents in five European countries on the drivers of obesity using group model building", "headline": "Identifying the views of adolescents in five European countries on the drivers of obesity using group model building", "author": "Folkehelseinstituttet", "image": "Model.MainImage.GetImageUrl()", "hideImage":"False", "publisher": { "@type": "Organization", "name": "Folkehelseinstituttet", "logo": { "@type": "ImageObject", "url": "https://www.fhi.no/contentassets/c03aa76fe30941f08474ee823ba2a928/logo-norsk-hel-navnet-uten-luft-rundt.png" } } }
Identifying the views of adolescents in five European countries on the drivers of obesity using group model building
Working with young people is at the heart of CO-CREATE and the first way they were directly involved in the research was in creating 'system maps.
This news article is older than 30 days and the information may be outdated
Go to the home page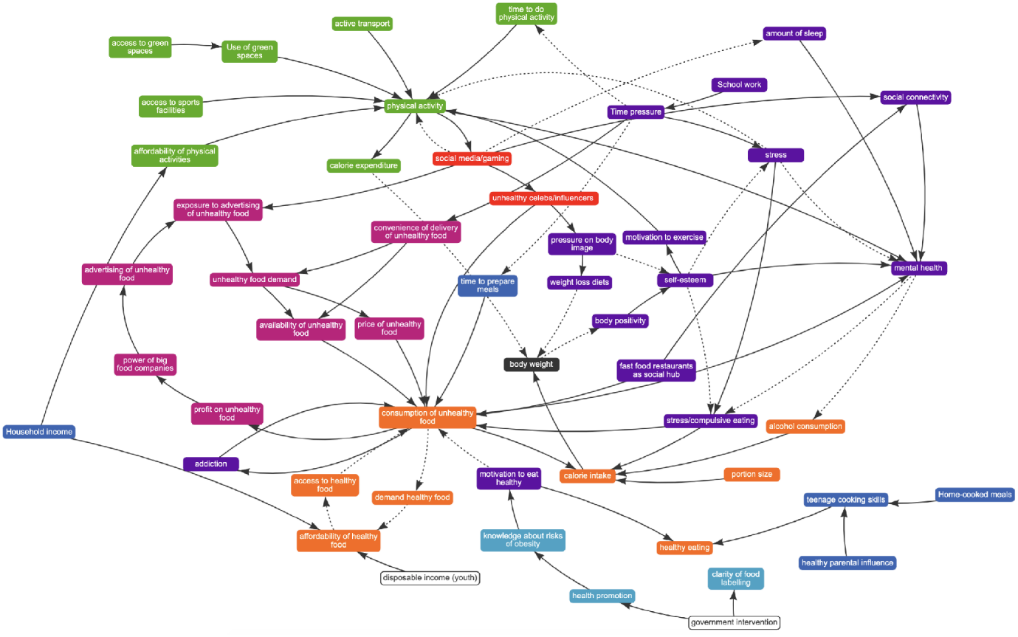 In academic research and policy development, more and more people are recognising the value, indeed – the necessity – in involving the people who are the intended beneficiaries of such plans. Working with young people is at the heart of CO-CREATE and the first way they were directly involved in the research was in creating 'system maps. These maps depict the factors that they believe contribute to diet and physical activity, and hence, body weight, amongst their age group. As a project, we are interested more in the external, 'upstream' influences on diet and physical activity rather than the individual-level behaviours – for example, looking at what it is in the physical, digital, or commercial environments that drive food choices or motivation to exercise. Research has shown that these higher-level drivers are not only very powerful but also effective points for change if we want to make a difference and improve health. Relying on individuals to change their behaviours without changing what is going on around them is simply too much to ask of any of us. Creating a system map of all these interwoven factors not only shows what young people consider important but also, it can help identify potentially effective responses which shunt parts of the system along the way to making healthy eating and physical activity more do-able.
We used a process called 'group model building' with groups of young people in five European countries (The Netherlands, Norway, Poland, Portugal, and the UK). During each GMB session, groups of 10- 15 participants were taken through various stages to come up with the range of factors that they think contribute to adolescent obesity and to illustrate how those factors are interconnected. We used a live, web-based system mapping software called STICKE, developed by CO-CREATE consortium partner Deakin University in Melbourne, Australia. In total, 257 young people took part in GMB groups, to produce the 20 maps that were amalgamated into one 'master' map, above, which shows the factors identified by the participants to influence body weight.
The findings were very broadly similar between countries. Feedback loops within a system map are considered to provide particularly effective entry points for achieving change within a system. In the master map, three of these stand out: commercial drivers of unhealthy diets; mental health and unhealthy diets; and social media use, body image, and motivation to exercise. Notably though, mental health issues, social media users are subjects that have thus far had little or no coverage in research and policy.
The key results described here and explanation of the pertinent feedback loops are presented in more detail in our article in the European Journal of Public Health.