{ "@context": "https://schema.org", "@type": "News", "datePublished": "2021-04-22", "dateModified": "2021-04-22", "name": "Youth-Led Dialogues Turn Policy Ideas into Action", "headline": "Youth-Led Dialogues Turn Policy Ideas into Action", "author": "Folkehelseinstituttet", "image": "Model.MainImage.GetImageUrl()", "hideImage":"False", "publisher": { "@type": "Organization", "name": "Folkehelseinstituttet", "logo": { "@type": "ImageObject", "url": "https://www.fhi.no/contentassets/c03aa76fe30941f08474ee823ba2a928/logo-norsk-hel-navnet-uten-luft-rundt.png" } } }
Youth-Led Dialogues Turn Policy Ideas into Action
Young people in CO-CREATE are calling on policymakers and decision makers to fulfill their right to health. To be successful in reducing the prevalence of overweight and obesity, we need to move towards comprehensive policies addressing the food and physical activity systems and environments surrounding us, reshaping the context to make healthy choices the easiest and most widely preferred
This news article is older than 30 days and the information may be outdated
Go to the home page
"We all have the right to health and food, and we also have the right to know how to eat properly" - CO-CREATE Youth, Portugal

Young people in CO-CREATE are calling on policymakers and decisionmakers to fulfill their right to health. To be successful in reducing the prevalence of overweight and obesity, we need to move towards comprehensive policies addressing the food and physical activity systems and environments surrounding us, reshaping the context to make healthy choices the easiest and most widely preferred. This is what CO-CREATE aims to achieve by bringing together 14 research and advocacy organizations, including EAT, to address meaningful involvement of young people in shaping healthy food and physical activity environments.

We are happy to share that CO-CREATE has reached a halfway milestone by hosting on February 15th, in collaboration with consortium partners, its 10th Dialogue Forum. The Dialogue Forums are a great opportunity to connect young people with policymakers and business leaders to discuss youth-led policy ideas and identify collective actions and commitments.

"I hope they [the stakeholders] learned that we youth really care about changing the system, that we may have some good ideas and thoughts that they haven´t thought of, and that we have the guts to think new" - CO-CREATE Youth, Norway

Youth-led dialogues are a powerful lever to change food environments and CO-CREATE shows exactly that. The Dialogue Forums have brought together more than 50 participants in 8 cities across Poland, Portugal, the Netherlands, and Norway. Young people, health professionals, food industry representatives, multidisciplinary experts, and policymakers from local and national authorities have come together to debate and exchange ideas. This diversity of participants has been central to the success and richness these dialogues.
CO-CREATE's Dialogue Forums are solutions-oriented, meaning participants are encouraged to identify concrete actions they can take to help advance a policy idea. Notable commitments so far include public funding from local policymakers, engaging the Norwegian Ministry of Health through Parliamentary questions, youth offering their networks and social media savvy to promote a policy idea, and offering to work collaboratively to further develop a policy proposal through research or advocacy. Stakeholders also gain a better understanding of youth perspectives and a stronger desire to keep engaging young people on various issues.

"I hope that the stakeholders saw that there is a whole generation that is willing to change our society for the better" - CO-CREATE Youth, Portugal

In a year marked by challenging circumstances and remote learning, young people have demonstrated their resilience by engaging in the Dialogue Forums and taking action to improve food and physical activity environments for young people across Europe. Before the end of 2021, EAT will organize a series of national and regional Dialogue Forums that will aim at informing real life policy processes, and that will engage CO-CREATE youth in the landmark United Nations Food Systems Summit process. Through this, EAT will continue to expand intergenerational conversations globally and enable youth to become agents of change, positioning them as the next generation of leaders who will help build healthier environments.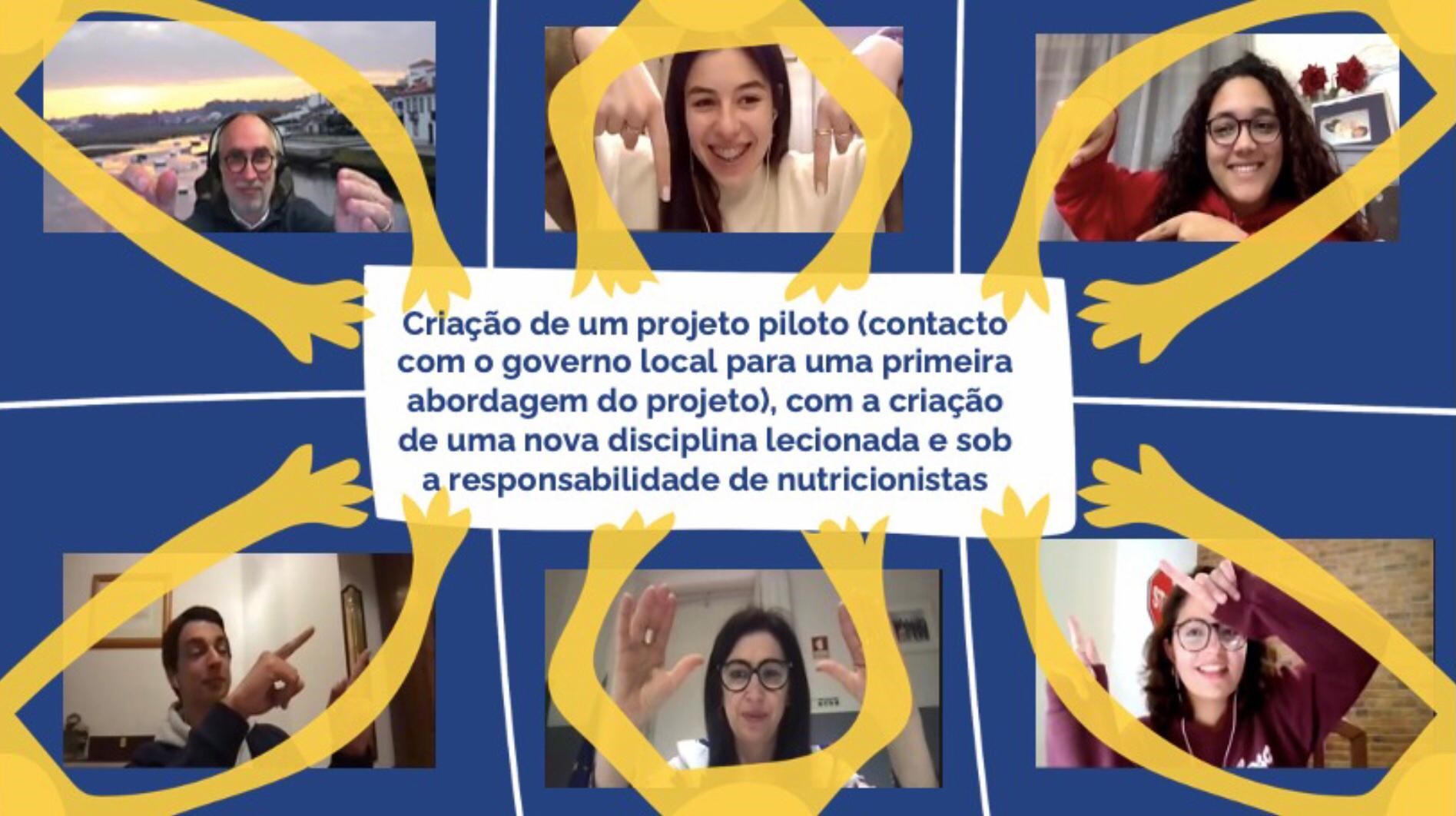 Common vision on the policy idea, Nutrition and Food Curriculum, led by the Cascais Youth Alliance in Portugal.
"Create a pilot project (contact the local government to initiate the project) with a new teaching approach under the responsibility of nutritionists."